Available for Entrepreneur Support Organizations – Government and Non-Profit Groups
As part of giving back to the startup community, Nicole offers no-cost workshops to Entrepreneur Support Organization, including government entities and non-profits that support entrepreneurs.
Upcoming Entrepreneur Workshops
Stay tuned, Nicole is scheduling several more Workshops.
Workshop – Elevating Your Elevator Pitch – Developing a Powerful Elevator Pitch
As part of our VentureWrench project, we have an online course called "Designing the Perfect Investor –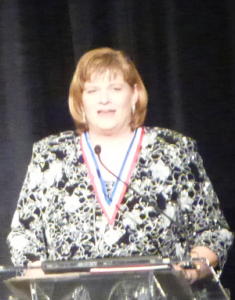 Raising Money for Your Startup". As part of that course, Nicole offers a workshop that she calls "Elevating Your Elevator Pitch" helping entrepreneurs develop a powerful elevator pitch. It is designed to be very "hands on" material to help emerging entrepreneurs develop a starting pitch that includes all of the items needed for a wide array of situations – potential investors, partners, customers and future employees.
Nicole says, "I have seen countless entrepreneurs be unable to give me a clear elevator pitch, or be unable to send me a crisp 1 paragraph summary of their deal in an email. So, I selected about 50 minutes of material on this specific area and have
had great feedback on this workshop!"
Recent Workshops and Keynotes
Workshop at Kaysville Entrepreneur LaunchPad
Elevating Your Elevator Pitch – Developing a Powerful Elevator Pitch
May 23, 2018 3:00 – 5:00pm
Entrepreneur LaunchPad
Davis Applied Technology campus
Simmons Northfront Bldg
450 South Simmons Way
Kaysville, UT 84037
Free! No registration. See StartupNotes post for details.
Workshop at Miller Entrepreneur Center
Elevating Your Elevator Pitch – Developing a Powerful Elevator Pitch
May 18, 2018 9:30 – 11:30am
Salt Lake Community College Miller Campus
9690 So. 300 West
Corporate Partnership Center, Building #5
Sandy, UT 84070
See StartupNotes post for details.
Comments from Miller Center Workshop Attendees:
Thanks for your presentation yesterday, I didn't know what to expect and was frankly blown away at how your explanation was really simple.  Rod M., Founder

Thank you for the great presentation yesterday and the time you spend afterwards. Keith D., Founder

Thanks for a great workshop today!  Tom R., Business Development Manager
BYU and Women Tech Council Student Innovators Women in STEM Designing Your Career Night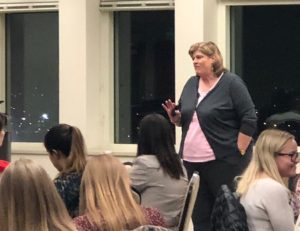 Nicole Toomey Davis Keynote
Women Tech Council Student Innovators and BYU Women In Technology Career Night
Wednesday, March 7, 2018 from 6-8pm
Gordon B. Hinckley Alumni and Visitors Center
Braid Workshop: Practice Your Pitch
Thu, February 15, 2018, 7:00 PM – 8:30 PM MST
Visit Braid Braid Home or their Events page
"Nicole gave an amazing pitch workshop to our Braid Workshop community! She really engaged the attendees and created a great atmosphere for learning. All of our workshop attendees walked away with new ideas on how to refine their pitches. I am so glad we got to meet Nicole in person. Nicole has a wealth of knowledge and experience that would benefit any group interested in growing their business."
Allison Lew, Founder, Braid Workshop
Braid Workshop Announcement
Practice your pitch with us. Telling your story and sharing your message in person, through emails, your website, and social media can be intimidating, but with practice, you can own it. CEO, President, and Co-founder of Enclavix Nicole Toomey Davis is a serial entrepreneur with a background in both business and engineering. While working in both business and government, Nicole has built a formula for a pitch that wins. At our workshop, Nicole will walk through how to create a strong pitch after which every attendee will refine their pitch and practice with fellow Braiders.
Develop a Powerful Elevator Pitch and Email Pitch
December 6, 2017 presented to the BYU Student Innovator of the Year Competitors
Crabtree Building, BYU Campus, open to SIOY competitors and BYU Students
"Nicole came and spoke to us as we were preparing our pitches, inventions, and businesses for the student innovator of the year competition. Her presentation was extremely engaging and helpful! I got great advice and training on pitching to investors and even got to practice presenting my elevator pitch! What I learned about speaking style from her examples will help me with my ventures for the rest of my life."
-Grant H, SIOY Student
Interested in Having Nicole Conduct a Workshop for your Organization?
Send our team an email at VentureWrenchCommunity@gmail.com if you are interested in hosting this workshop!  Nicole is also registered at Innovation Women, an online speaker's bureau for entrepreneurial and technical women.