Upcoming Workshops and Speaking Events
SBDC National Conference Presentation – How to Improve your SBIR Proposal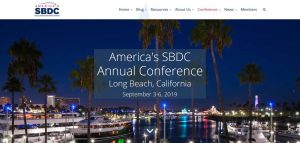 Nicole will be speaking at the 39th Annual America's SBDC Conference which takes place September 3-6, 2019, in Long Beach, California, at the Long Beach Convention Center. for SBDC Directors and team members from all over the U.S. Her topic will be "Improving your SBIR Proposal – Insights from the SBIR Review Process", Thursday September 5, 2019, 8:00 a.m. – 9:30 a.m., Room 103A
Details of the Conference Agenda can be found on the ASBDC Conference website.
Stay tuned for more upcoming Workshops and Demonstrations!  If you are interested in the pitch workshop, we now have an onlin

e version!
Recent Workshops, Demonstrations and Keynotes
Power is Not a 4 Letter Word – Understanding Power in Organizations!
Nicole Toomey Davis present the Workshop "Power is Not a Four Letter Word" at the Utah – Davis and Morgan Entrepreneurs Growth Meeting on August 22, 2019 at 4:30pm, hosted by Davis Tech Business Resource Center.
Nicole addressed the key "types" of power, how to identify power you already have and how to earn other types of power. Finally, she addressed how to effectively, and properly, use power in accomplishing important goals and helping others accomplish their goals.
Nicole Toomey Davis and Congressman Chris Stewart Discuss Tech Policy at Silicon Slopes Event
Congressman Chris Stewart and Nicole Toomey Davis partnered for a Tech Policy Panel Discussion moderated by Troy Keller at the July 30, 2019 Silicon Slopes event.  We covered a lot of big picture topics, including privacy issues and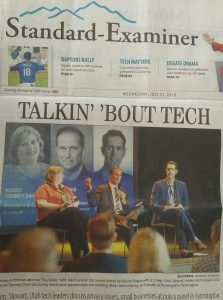 privacy regulations, such as the EU's GDPR and the likelihood of federal regul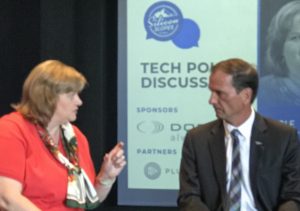 ation in the U.S. on privacy issues.
Rep. Stewart emphasized the importance of AI and machine learning to the U.S. in public policy and we also discussed national security issues with China, including their privacy destroying "social credit system", the challenge of the 5G cell buildout around the world, and the value of SBIR awards to entrepreneurs in Utah as well as the importance of other federal procurement programs for Utah companies.
The Standard Examiner put together a great article if you'd like to read more and Utah Business published this article on Tech Policy and our panel.
Nicole Toomey Davis appears with Women Tech Council on ABC4Utah

Cydni Tetro of the Women Tech Council invited Nicole to participate in a special series on entrepreneurship on ABC4Utah with host Nicea. Cydni and Nicole were joined by Karmel Larson from Momni, a fellow startup CEO. Watch the video for ways to find the help you need to improve your startup success! The group shared some good ways to "get started" with new and future entrepreneurs!
VentureWrench Launches AI-powered SaaS Tools for Entrepreneurs at Silicon Slopes Event
The VentureWrench team will be demonstrating the VentureWrench Library at the debut event of the Silicon Slopes Farmington Chapter event on Tuesday, January 15, 2019. The event is called "North Valley CEOs Dish on How to Make the Inc. 5000".  Silicon Slopes (#SiliconSlopes) now has an active chapter in Farmington, connecting Davis and Weber County entrepreneurs. The Silicon Slopes event will be held at Pluralsight's East Headquarters in Farmington UT on Jan 15th at noon.
VentureWrench Library Quick Demo Showing Marketing Topics
Workshop – How Startup Investors (Really) Work
November 1st, 2018 at 4:30 p.m.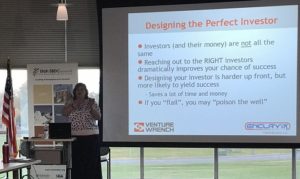 Nicole says,"Raising money is the negotiation of a lifetime, are you ready?"
This workshop is an excerpt from our course "Designing the Perfect Investor™" and helps entrepreneurs understand how investors really work behind the scenes to help level the playing field!  We created this course and workshop because of a comment from a colleague who is on the investor side.
He invited me (Nicole) to present a summary presentation of Designing the Perfect Investor to a select group of entrepreneurs.  I was happy to do that, but I also asked him if my presentation was really the best he knew of on raising money – because I wanted to go learn from the person with the best presentation!  What he said changed our trajectory.  He said "It is the best presentation because it is purely from the perspective of the entrepreneur, and everything else is from the perspective of the investor."  And he is still right.  Everything that we have found "out there" is from the perspective of the investor.  When I was raising for our first company DoBox, I thought the right thing was to listen to investors, because they would tell me what they wanted.  BUT, I didn't understand that raising money is a NEGOTIATION, and that investors are the other side of the table.  I learned the inside secrets of how investors really work when I was on the funding side and in this workshop I share it with other entrepreneurs!
Hosted by the Utah SBDC for Davis and Morgan Counties located at DavisTech in Kaysville.  This is an invitation – only meeting for high performing entrepreneurs.
Workshop – Elevating Your Elevator Pitch – Developing a Powerful Elevator Pitch
As part of our VentureWrench project, we have an online course called "Designing the Perfect Investor –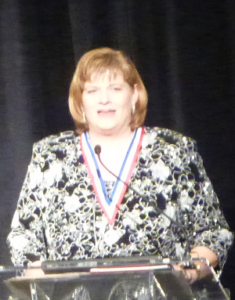 Raising Money for Your Startup". As part of that course, Nicole offers a workshop that she calls "Elevating Your Elevator Pitch" helping entrepreneurs develop a powerful elevator pitch. It is designed to be very "hands on" material to help emerging entrepreneurs develop a starting pitch that includes all of the items needed for a wide array of situations – potential investors, partners, customers and future employees.
Nicole says, "I have seen countless entrepreneurs be unable to give me a clear elevator pitch, or be unable to send me a crisp 1 paragraph summary of their deal in an email. So, I selected about 50 minutes of material on this specific area and have had great feedback on this workshop!"
Workshop at Kaysville Entrepreneur LaunchPad
Elevating Your Elevator Pitch – Developing a Powerful Elevator Pitch
May 23, 2018 3:00 – 5:00pm
Entrepreneur LaunchPad
Davis Applied Technology campus
Simmons Northfront Bldg
450 South Simmons Way
Kaysville, UT 84037
Free! No registration. See StartupNotes post for details.
Workshop at Miller Entrepreneur Center
Elevating Your Elevator Pitch – Developing a Powerful Elevator Pitch
May 18, 2018 9:30 – 11:30am
Salt Lake Community College Miller Campus
9690 So. 300 West
Corporate Partnership Center, Building #5
Sandy, UT 84070
See StartupNotes post for details.
Comments from Miller Center Workshop Attendees:
Thanks for your presentation yesterday, I didn't know what to expect and was frankly blown away at how your explanation was really simple.  Rod M., Founder

Thank you for the great presentation yesterday and the time you spend afterwards. Keith D., Founder

Thanks for a great workshop today!  Tom R., Business Development Manager
BYU and Women Tech Council Student Innovators Women in STEM Designing Your Career Night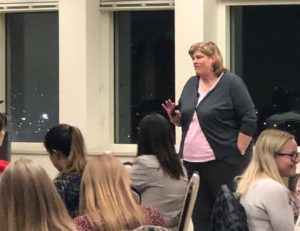 Nicole Toomey Davis Keynote
"Power is Not a Four Letter Word"
Women Tech Council Student Innovators and
BYU Women In Technology Career Night
Wednesday, March 7, 2018 from 6-8pm
Gordon B. Hinckley Alumni and Visitors Center
Nicole addressed the key "types" of power, how to identify power you already have and how to earn other types of power.  Finally, she address how to effectively, and properly, use power in accomplishing important goals.
Braid Workshop: Practice Your Elevator Pitch
Thu, February 15, 2018, 7:00 PM – 8:30 PM MST


Visit Braid Braid Home or their Events page
"Nicole gave an amazing pitch workshop to our Braid Workshop community! She really engaged the attendees and created a great atmosphere for learning. All of our workshop attendees walked away with new ideas on how to refine their pitches. I am so glad we got to meet Nicole in person. Nicole has a wealth of knowledge and experience that would benefit any group interested in growing their business."
Allison Lew, Founder, Braid Workshop
Braid Workshop Announcement
Practice your pitch with us. Telling your story and sharing your message in person, through emails, your website, and social media can be intimidating, but with practice, you can own it. CEO, President, and Co-founder of Enclavix Nicole Toomey Davis is a serial entrepreneur with a background in both business and engineering. While working in both business and government, Nicole has built a formula for a pitch that wins. At our workshop, Nicole will walk through how to create a strong pitch after which every attendee will refine their pitch and practice with fellow Braiders.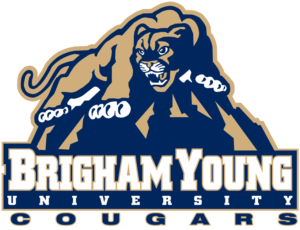 Workshop:  Elevating your Elevator Pitch – Develop a Powerful Elevator Pitch and Email Pitch
December 6, 2017 presented to the
BYU Student Innovator of the Year Competitors
Crabtree Building, BYU Campus, open to SIOY competitors and BYU Students
"Nicole came and spoke to us as we were preparing our pitches, inventions, and businesses for the student innovator of the year competition. Her presentation was extremely engaging and helpful! I got great advice and training on pitching to investors and even got to practice presenting my elevator pitch! What I learned about speaking style from her examples will help me with my ventures for the rest of my life."
-Grant H, SIOY Student
Interested in Having Nicole Conduct a Workshop for your Organization?
Send our team an email at VentureWrenchCommunity@gmail.com if you are interested in hosting this workshop!  Nicole is also registered at Innovation Women, an online speaker's bureau for entrepreneurial and technical women.