Terms of Use and other Legal Stuff
These Terms of Use and our Privacy Policy apply to your use of www.VentureWrench.com, www.VentureWrench.net, Library.VentureWrench.com, Notes.VentureWrench.com, VentureWrench.info, or VentureWrench.thinkific.com, InvestorFind™ investor data, and any other related sites (the "Site" or "Sites" or "Website" or "Websites") or any email list or lists orfree or paid products or education materials owned, marketed or delivered by Enclavix, LLC, the creators of VentureWrench, its subsidiaries, affiliates and partners.  By using any of these Sites, signing up for any of our email lists, purchasing one of our online products or choosing to receive any of our free resources, you agree to these Terms of Use as well as to our Privacy Policy.
How do we know what information you might need? We ask you some questions about your startup and your background and then provide an interactive interface to the best stuff out there to help you succeed and to succeed more quickly.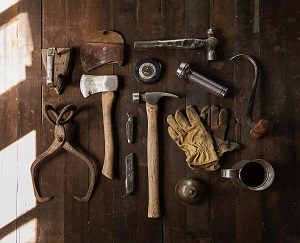 That information is stored in your personalized profile, where the data you enter and the resources you see and use are private to you. Personal accounts provide privacy and will remain intact as long as we can contact you. Your personal account can be accessed from any browser on any device. A personal account requires a valid active email address and VentureWrench sets a cookie so that the system can keep session integrity.
If you want to try VentureWrench without creating an account, you may log in as a guest (no password).
While we may put up advertisements that are targeted at you because of the information you have told us, we will not sell that information to anyone else or allow anyone else to see it except as described below or as required by law.
When you enter your email address in your profile, we use your email address as unique identifier and to communicate to you if there is a problem with the system. We may also occasionally reach out to you to request your suggestions and feedback on he VentureWrench system and content in order to improve the content and services we offer you.
We created the VentureWrench Startup Community, tools and content, including courses, coaching, articles and blogposts and related content, to help coach and support you as an entrepreneur. However, we are not responsible for nor liable for your performance, including but not limited to any success or failure. By using the tools you agree that you do so at your own risk.
More Legal Info
VentureWrench.com, Notes.VentureWrench.com, VentureWrench.net, Library.VentureWrench.com, VentureWrench.info and our training platform VentureWrench.thinkific.com, as well as all VentureWrench content have been created by and are the intellectual property of Enclavix, LLC, P.O. Box 540059, North Salt Lake, UT 84054-0059. You may communicate any concerns about VentureWrench by email at VentureWrenchCommunity@gmail.com.  When we use the word "we", "Enclavix", "VentureWrench" or "VentureWrench Community", we refer to Enclavix, LLC and the associated contents, software, services of Enclavix and the VentureWrench.com system and platform.
Trademarks
StartupNotes™, Startup Therapy™, VentureWrench™, Enclavix™, InvestorFind™ and Designing the Perfect Investor ™, are Trademarks of Enclavix, LLC, creators of VentureWrench.
Limitation of Liability
IN NO EVENT WILL YOU OR WE HAVE ANY LIABILITY TO THE OTHER FOR ANY LOST PROFITS OR REVENUES OR FOR ANY INDIRECT, SPECIAL, INCIDENTAL, CONSEQUENTIAL, COVER OR PUNITIVE DAMAGES HOWEVER CAUSED, WHETHER IN CONTRACT, TORT OR UNDER ANY OTHER THEORY OF LIABILITY, AND WHETHER OR NOT THE PARTY HAS BEEN ADVISED OF THE POSSIBILITY OF SUCH DAMAGES. UNLESS YOU ARE ALSO A CUSTOMER (AND WITHOUT LIMITATION TO OUR RIGHTS AND REMEDIES UNDER THE CONTRACT), YOU WILL HAVE NO FINANCIAL LIABILITY TO US FOR A BREACH OF THESE USER TERMS. OUR MAXIMUM AGGREGATE LIABILITY TO YOU FOR ANY BREACH OF THE USER TERMS IS ONE HUNDRED DOLLARS ($100) IN THE AGGREGATE. THE FOREGOING DISCLAIMERS WILL NOT APPLY TO THE EXTENT PROHIBITED BY APPLICABLE LAW AND DO NOT LIMIT EITHER PARTY'S RIGHT TO SEEK AND OBTAIN EQUITABLE RELIEF.
Disclaimers
The information, services, products, claims, seminar topics, and materials on our Sites are provided "as is" and without warranties of any kind, either expressed or implied. We disclaim all warranties, expressed or implied, including but not limited to implied effectiveness of the ideas or success strategies listed on this site as well as those that are provided in our products or to our participants at our events. The only exception is the guarantees of satisfaction and graduation that are clearly labeled guarantees within our Sites. Neither we nor any of our respective licensors or suppliers warrant that any functions contained in the Sites will be uninterrupted or error-free, that defects will be corrected, or that the Sites or the server that makes them available are free of viruses or other harmful components. Neither we nor any of our respective licensors or suppliers warrant or make any representations regarding the use or the results of the use of the services, products, information or materials in this site in terms of their correctness, accuracy,reliability, or otherwise. You (and not we or any of our respective licensors or suppliers) assume the entire cost of all necessary servicing, repair or correction to your system. Applicable law may not allow the exclusion of implied warranties, so the above exclusion may not apply to you. We do not endorse, warrant or guarantee any speakers, products or services offered on the Sites or those we link to. We are not a party to, and do not monitor, any transaction between users and third party providers of products or services.
No Professional Advice
The information contained in or made available through the Sites (including but not limited to information contained on message boards, blog or StartupNotes posts, via video or video presentation, by audio communitation, in text files, or in chats) cannot replace or substitute for the services of trained professionals in any field, including, but not limited to, financial, business or legal matters.  You alone are responsible and accountable for your decisions, actions and results in life, and by your use of the Sites, you agree not to attempt to hold us liable for any such decisions, actions or results, at any time, under any circumstance.
Earnings Disclaimer
At Enclavix, we don't believe in "get rich" programs – only in hard work, adding value, and pursuing the entrepreneurial dream.  Our platform, products, sites and services are intended to help you on your entrepreneurial journey by making available resources to assist you.  It takes a lot of work and discipline to make use of these resources and information. Specifically, we make no promises about whether you and your company will be able to succeed at raising capital, receiving SBIR funding or any other capital or business related action based on our insights and suggestions.  You acknowledge that you are the primary determinant of your business success.
Governing Law
The Contract, and any disputes arising out of or related hereto, will be governed exclusively by the internal laws of the State of Utah, USA, without regard to its conflicts of laws rules or the United Nations Convention on the International Sale of Goods.
Venue; Waiver of Jury Trial; Fees
The state and federal courts located in Utah will have exclusive jurisdiction to adjudicate any dispute arising out of or relating to these User Terms, including the Acceptable Use Policy, Privacy policy or any related policies, or their formation as a contract between us or their enforcement. Each party hereby consents and submits to the exclusive jurisdiction of such courts. Each party also hereby waives any right to jury trial in connection with any action or litigation in any way arising out of or related to the User Terms. In any action or proceeding to enforce rights under the User Terms, the prevailing party will be entitled to recover its reasonable costs and attorney's fees.
Entire Agreement
The User Terms, including any terms incorporated by reference into the User Terms, constitute the entire agreement between you and us and supersede all prior and contemporaneous agreements, proposals or representations, written or oral, concerning its subject matter. To the extent of any conflict or inconsistency between the provisions in these User Terms and any pages referenced in these User Terms, the terms of these User Terms will first prevail; provided, however, that if there is a conflict or inconsistency between the Contract and the User Terms, the terms of the Contract will first prevail, followed by the provisions in these User Terms, and then followed by the pages referenced in these User Terms (e.g., the Privacy Policy). Customer will be responsible for notifying Authorized Users of those conflicts or inconsistencies and until such time the terms set forth herein will be binding.
Sharing and Disclosure
There are times when information described in this agreement and in our privacy policy and information collected by VentureWrench.com and Enclavix, LLC may be shared by us. This section discusses how we may share such information.
1. Customer Data
We may share Customer Data in including:
With third party service providers and agents. We may engage third party companies or individuals to process Customer Data. With affiliates. We may engage affiliates in our corporate group to process Customer Data.
With third party integrations.
2. Other information
We may share other information as follows:
With third party service providers and agents. We may engage third party companies or individuals, such as third party payment processors, to process information on our behalf.
With affiliates. We may engage affiliates in our corporate group to process other information.
3. Other types of disclosure
We may share or disclose Customer Data and other information as follows:
During changes to our business structure. If we engage in a merger, acquisition, bankruptcy, dissolution, reorganization, sale of some or all of VentureWrench.com or Enclavix, LLC assets, financing, acquisition of all or a portion of our business, a similar transaction or proceeding, or steps in contemplation of such activities (e.g. due diligence).
To comply with laws. To comply with legal or regulatory requirements and to respond to lawful requests, court orders and legal process.
To enforce our rights, prevent fraud and for safety. To protect and defend the rights, property, or safety of us or third parties, including enforcing contracts or policies, or in connection with investigating and preventing fraud.
We may disclose or use aggregate or de-identified information for any purpose. For example, we may share aggregated or de-identified information with our partners or others for business or research purposes or partnering with research firm or academics to explore interesting questions about workplace communications.
Changes to These Policies
We may change these policies from time to time, and if we do we will post any changes on this page. If you continue to use the Services after those changes are in effect, you agree to the revised policies.
Acceptable Use Policy
This Acceptable Use Policy sets out a list of acceptable and unacceptable conduct for our Services. If we believe a violation of the policy is deliberate, repeated or presents a credible risk of harm to other users, our customers, the Services or any third parties, we may suspend or terminate your access. This policy may change as Enclavix and VentureWrench grow and evolve, so please check back regularly for updates and changes. Capitalized terms used below but not defined in this policy have the meaning set forth in the User Terms of Service.
Do:
comply with all User Terms of Service, including the terms of this Acceptable Use Policy;
comply with all applicable laws and governmental regulations, including, but not limited to, all intellectual property, data, privacy, and export control laws, and regulations promulgated by any government agencies, including, but not limited to, the U.S. Securities and Exchange Commission, and any rules of any national and other securities exchanges;
upload and disseminate only Customer Data to which Customer owns all required rights under law and under contractual and fiduciary relationships (such as proprietary and confidential information learned or disclosed as part of employment relationships or under nondisclosure agreements) and do so only consistent with applicable law;
use commercially reasonable efforts to prevent unauthorized access to or use of the Services;
keep passwords and all other login information confidential;
monitor and control all activity conducted through your account in connection with the Services;
promptly notify us if you become aware of or reasonably suspect any illegal or unauthorized activity or a security breach involving your accounts or teams, including any loss, theft, or unauthorized disclosure or use of a username, password, or account;
and comply in all respects with all applicable terms of the third party applications, including any that Customer elects to integrate with the Services that you access or subscribe to in connection with the Services.
Do Not:
permit any third party that is not an Authorized User to access or use a username or password for the Services;
share, transfer or otherwise provide access to an account designated for you to another person;
use the Services to store or transmit any Customer Data that may infringe upon or misappropriate someone else's trademark, copyright, or other intellectual property, or that may be tortious or unlawful;
upload to, or transmit from, the Services any data, file, software, or link that contains or redirects to a virus, Trojan horse, worm, or other harmful component or a technology that unlawfully accesses or downloads content or information stored within the Services or on the hardware of Enclavix, VentureWrench or any third party;
attempt to reverse engineer, decompile, hack, disable, interfere with, disassemble, modify, copy, translate, or disrupt the features, functionality, integrity, or performance of the Services (including any mechanism used to restrict or control the functionality of the Services), any third party use of the Services, or any third party data contained therein (except to the extent such restrictions are prohibited by applicable law);
attempt to gain unauthorized access to the Services or related systems or networks or to defeat, avoid, bypass, remove, deactivate, or otherwise circumvent any software protection or monitoring mechanisms of the Services;
access the Services in order to build a similar or competitive product or service or copy any ideas, features, functions, or graphics of the Services;
use the Services in any manner that may harm minors or that interacts with or targets people under the age of thirteen;
impersonate any person or entity, including, but not limited to, an employee of ours, an Administrator, an Owner, or any other Authorized User, or falsely state or otherwise misrepresent your affiliation with a person, organization or entity;
use the Services to provide material support or resources (or to conceal or disguise the nature, location, source, or ownership of material support or resources) to any organization(s) designated by the United States government as a foreign terrorist organization pursuant to section 219 of the Immigration and Nationality Act or other laws and regulations concerning national security, defense or terrorism;
access, search, or create accounts for the Services by any means other than our publicly supported interfaces (for example, "scraping" or creating accounts in bulk);
send unsolicited communications, promotions or advertisements, or spam;
send altered, deceptive or false source-identifying information, including "spoofing" or "phishing";
abuse referrals or promotions to get more credits than deserved;
sublicense, resell, time share or similarly exploit the Services;
use the Services for consumer purposes, as VentureWrench is intended for use by businesses and organizations and by entrepreneurs starting business and organizations;
use contact or other user information obtained from the Services (including email addresses) to contact Authorized Users outside of the Services without their express permission or authority or to create or distribute mailing lists or other collections of contact or user profile information for Authorized Users for use outside of the Services;
or authorize, permit, enable, induce or encourage any third party to do any of the above.
See our Privacy Policy
Last Updated: October 21, 2019