InvestorFind™ – A Custom Search of our Unique, Curated Investor Database
In our online course, Designing the Perfect Investor™, we help you understand how investors really work and how to Design the Perfect Investor for you company.  Of course, then you need to find those investors!  In the course we explain some DIY ways to find those investors, but we are also bringing you a tool to make it much easier!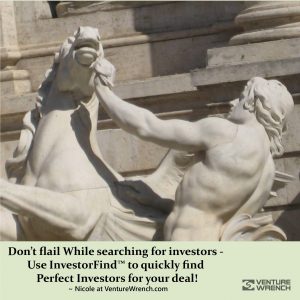 Our team has been busy curating information about thousands of investors, Venture Capital Firms, earlier stage Private Equity Firms, and selected Angels and Angel Networks – the stage they're interested in, the geographical areas they care about, the industries they invest in, all the info needed to help target your perfect investor.
Our goal is to save you TONS of time by providing at least  20 -25 "Perfect Investor" candidates with our custom searches.  At least twenty potential investors who already want what you have!  Think about the amount of time that will save (and we know because we've been spending the time for you!)
If you have signed up for our course Designing the Perfect Investor™, then you can get your custom search of our database for $500 (USD). If you aren't one of our existing clients, then the custom search is still a very reasonable $1000 (USD). Because this is a custom search, just drop us an email at VentureWrenchCommunity [at] gmail.com and let us know you want to take advantage of this special offer and we'll send you the payment link! (To get the $500 discounted price, send your email from the same email you signed up for the course with!)
The InvestorFind™ custom investor search is covered by the InvestorFind™ Terms and Conditions as well as our primary Terms of Use, including the limitation of liability, and our Privacy Policy.