Thanks for Requesting your Free Report
"40 Ways to Improve your SBIR Proposal!"
It's on its way to your inbox!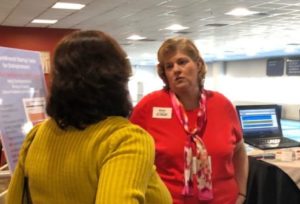 Are you serious about SBIR success? As an experienced review and the recipient of multiple SBIR Phase I and Phase II awards, I've created an online course Improve your SBIR Proposal to help you understand how proposals are reviewed so you can improve your proposal and increase your odds of success! We've also included a lot of value added content including our brand new workbook, accounting help sheets (to help you figure out your Phase I and Phase II accounting!) and sample documents to help you prepare your proposal. You won't find anything else like this. Our course Improve your SBIR Proposal can help you improve the odds of success!
See a sample below and then sign up for either our video-only course or our course + 1 on 1 coaching with Nicole!
SBIR Proposal Video Training
Improve your SBIR Proposal | Plus 1-on-1 Coaching
2 hours personal coaching from Nicole Toomey Davis
Discuss issues related to the success of your SBIR proposal
Phone or online coaching, your choice
The 2 Hour Improve your SBIR Proposal Video Course and 105 page Workbook are included
$999 Limited Time! $799
(Payments and hosting by Thinkific, a trusted leader in video training)
Improve your SBIR Proposal | Video Only

(1)
Hosted by Nicole Toomey Davis, MBA and CEO.
Nicole has raised $1.2 million in SBIR funding
2 Hours of Video
105 page Workbook PDF "Improving Your SBIR Proposal" to reinforce key points
Videos can be viewed as many times as you want for 18 months
$399.00 Limited Time! $299.00
(Payments and hosting by Thinkific, a trusted leader in video training)
As an experienced startup coach and longtime, experienced peer reviewer of both SBIR Phase I and SBIR Phase II proposals, Nicole has received so many questions about proposals for the SBIR solicitation that she put together a short course on what actually happens behind the scenes during the Review Process of SBIR proposals.
Don't forget to check your inbox!
This permanent course came from a live course conducted with startups in November 2017 with input from teams working on proposals for December deadlines. This course was designed to address the questions of entrepreneurs like you on how the SBIR grant process really works.

Items covered include:
The importance of the

pre-proposal executive summary/submission

(more than 2 weeks in advance of submission deadlines) Your chance to make reviewers love what you do!
Overview of orientation that reviewers receive
Identifying the different types of reviewers on a panel and how this impacts the process
What reviewers are asked to do for each review (and how this impacts your proposal!)
Why an SBIR Program Director said on a road tour this summer that just a few things can raise your odds of being awarded funding from

15% to over 50%

!
Why the

Introduction

can make or break your entire proposal
The order in which experienced reviewers read your proposal - and why it matters.
Differences and similarities between

SBIR Phase I and Phase II reviews

, and why your Phase I review is really the first part of your Phase II review
Do

letters of support really matter

- and how not to get them
What is really needed in the commercialization section of an SBIR Phase I (vs. Phase II)
Review of my list of 40 ways to improve your SBIR proposal (from mistakes I saw in actual proposals)
The difference between individual reviews and panel summary (and scores) and what that feedback means
How to track the progress of your proposal
Clues that you have been recommended for funding and what to expect from your PD


Sarah Lukes Best SBIR course I've taken
I have participated in several SBIR enrichment activities through the state and university. Nicole provided more in depth information, as well as considered input and requests from attendees. A lot of the other courses out there are told in 3rd person where someone interviews SBIR award winners, but has not applied or reviewed many proposals themselves. I am grateful for the extra guidance and motivation and strongly recommend this course.
Content includes 9 core content chapters, over 2 hours of content plus four bonus chapters to help you with your executive summary or proposal overview and another bonus chapter to help you with your SBIR accounting.