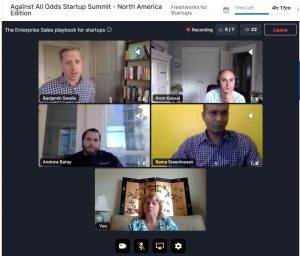 I attended today's Against All Odds Summit for Entrepreneurs, a well done virtual conference organized by Freshworks for Startups, I found these good insights from speakers during the summit. I was also a panelist today on the the virtual panel "The Enterprise Sales Playbook for Startups" led by Benjamin Swails, Senior Sales Leader at Freshworks and including Andrew Batey at beatdapp, Aron Kansal of Simpletix, and Rama Sreenivasan of Blitzz.  We had an excellent discussion of ways to strengthen your sales process with enterprise clients. (here we are in our virtual panel!)
More insights from throughout the day:
Be authentic – kids, dogs, your house, right now we are all being impacted, so be authentic.
Be empathetic – as a leader, let your team know you understand
Be a driver not a passenger – and watch team members, are they drivers or passengers?
Keep the main thing the main thing (at least remind yourself of what the main thing and purpose is!)
From Seth Godin – focus on the smallest available group and show up for those people!
Building a Board of Directors – don't just fill seats (or "resume pad"), instead make sure you get specific value from your Board members – look for people who will help you grow an exceptional business!
Be really intentional about defining the customer and how to delight them
What is the long term vision for the company – what is the north star, the vision, the "why?" of your company (and keep repeating it all the time!)
How do you scale sales? – First build the "support cast" (support, implementation, inside sales etc) before you hire star "sales" people.  Remember that early founders are the biggest champions of the company.
Grow champions at potential customers by asking for their help and advice along the way – let them help you shape the product or solution.
From me – Looking for Enterprise clients – make sure you understand who you have to sell – not just your end user champions but also IT and network security, the privacy officer and now the diversity and inclusion team (especially for AI!)
The pillars of culture need to be strong – and that is strongest with those who have grown up with the business.
———————-
With key insights to help you understand how raising startup capital
is changing while the stock market gyrates
to help you be more successful in raising capital from investors