Who are your Big Friends?
When I was raising money for our first company, DoBox, Inc., I met with a young venture capital firm in Silicon Valley. One of the first questions they asked me was "Who are your Big Friends?" I didn't know what they meant by that (and had to admit it!).
They explained that big friends are existing players in the industry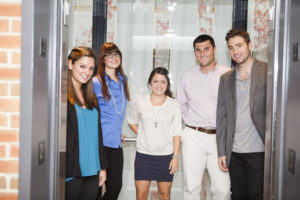 such as customers, partners and suppliers who have some reason to WANT you to succeed. Your Big Friends are willing to go to bat for you, recommend you, provide resources and insights to you, in short, they are willing to help you succeed in the MARKETPLACE.
So, when I create or review a business plan, I like to look at Big Friends. Ask yourself these questions:
Who are your Big Friends?

Do the dogs want to eat this Dog Food?

Who wants you to succeed? Customer, partners, suppliers, industry, government…?
Customers are the best and most important big friends!
Do the dogs want to eat this dog food?
If you have something valuable to offer big friends, then it is worth the effort to reach out to them. Use LinkedIn and your network to find contacts who might be a good fit and send them a ONE PARAGRAPH description of what you are doing and ask them if it might be of interest to their company.
Big companies are always looking for the new, the next, the needed. If you really have a solution, they will be eager to meet with you. So get out there and meet those big friends!
Example:
After this experience, we launched our product, a Family Firewall to help protect families online by managing web, chat, email and games, by person and by time of day, at the annual Consumer Electronics Show. Our VP of Business Development set up a number of meetings with the biggest cable companies in the U.S. I was a little skeptical. I reminded him that many cable companies found adult channels to be a profitable business. He reminded me that when the cable companies rolled out, a lack of parental controls on adult content had hurt their growth and they were very interested in parental controls on the internet. This convinced me, and we set up these meetings. One of the very biggest and most successful cable companies became our Big Friend.
They were working with BigTech, one of the world's biggest technology companies, on a consumer product and they wanted our technology incorporated into the system. They promised to introduce us to the right people. When we hadn't heard anything, we reached out to our Big Friend. They blind copied us on an email to BigTech saying simply "If not DoBox, then Who?".
Quickly we inked a $100,000 contract with BigTech, our first revenue and a crucial win at a crucial time.
I'm a believer in Big Friends and you should be too!
Our mission at VentureWrench is to help you achieve your entrepreneurial dreams. Our curated library of the best resources to help entrepreneurs, VentureWrench.com, is live.  Sign up now for your free account!