In the spirit of helping you as you navigate all aspects of your startup, here are some tips for successful tradeshow participation as cost effectively as possible! (and see our tips of What Not to Do as well!)
Just exhibiting at a major tradeshow in your industry can be important to your progress and success.  It's easier to set up meetings with a lot of people that you want to meet like customers, partners, and other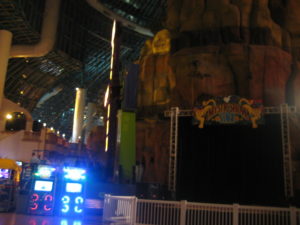 Big Friends. If you're not there, those same people with whom you're trying to establish credibility  wonder if you're not as smart as you think you are.
Of course, you can't, or shouldn't, afford to spend $50k on the space for a huge booth, and then much more than that on a huge booth to put on that space!  As a startup, you will be in the "emerging" companies, although many smart tradeshows are doing a better job at creating cool "themed" sections.
For DoBox this included the "Digital Living Room" at CES (the Consumer Electronics Show), which was definitely cooler than the "tiny companies who can't afford a real booth" zone. Looks for these types of specialty sections, they may be a little more money up front, but they draw traffic which is interested in your "space".
Here are some helpful tips for a successful Tradeshow experience
If it's a show in Vegas (example, CES), don't stay on the strip, pick a nice quiet suite hotel and rent a couple of Vans for your team and pay for parking. The quiet and rest will be worth it!
Occasionally the "southern" strip hotels are often on the show routes for the buses and can be quieter and removed from the chaos of the central part of the strip; if you can get a good price!
Take your team out to at least one nice dinner while on the road at big tradeshows; it's a little money and it speaks volumes.
Don't ask your team to do what you're not willing to do.
Have backups to your backups because things will go wrong!
Use Roll up signs (heavy vinyl that will still roll up) and foldable easels for VC beauty pageants and tradeshows. They pack smaller and it saves on paying for help at the high end hotels and for union help at tradeshows.
Always bring your own "gaffer's tape" which is what they use in theaters, check theater supply sources. Get the tape color coded to your marketing color scheme, it can save your bacon and it does not leave a sticky residue. (note, don't use duct or "duck" tape which makes a mess).
At most big tradeshow venues, you can bring in anything that is in a "wheeled luggage" or that you can carry, but NOT on a dolly.
Bring your own extension cords and power strips and bring plenty of them!
Go to a florist or home improvement store and buy your own plants instead of paying tradeshow prices (plants and flowers do make things look more grownup).
Make sure you bring your own (rollup) Logo/Name sign for the back of your booth, especially if it's an 8″ or 10″ booth – typically you end up with "bad" tradeshow curtains and a black and white cardboard "name" as your ID – so spend a bit and get a big sign (5′ or 6′ across) with your name and logo – if it's a roll up sign, you can use it again and again.  DON'T get one mounted on foam core – they get dinged in about 5 minutes and look terrible
Bring lots of business cards, they're cheap and easy online!
Have a flyer done on glossy, heavy paper.  DON'T laser print something on regular paper.  Also, DON'T illegally copy copyrighted material (such as an article).
If you are playing music, showing a video or displaying a picture at a Tradeshow, (say to demonstrate the capabilities of a device or system) remember that for copyright purposes, it may be considered a "public performance" and there are special copyright rules for that.
Schedule meetings in advance at your booth – start scheduling well in advance, and give your guests a nice "time window" as it's hard to navigate a tradeshow.
Make sure you prioritize meetings with industry analysts, either at your booth or at their "companion" events!
Be sure to combine savvy PR and announcements with your tradeshow activities.
Be sure and spend time to scout the show floor and see "what's hot" in the industry – aka on the ground market and competitive research in one place.
Plan to have at least 2 team members in a small booth at all times, and you should plan to have at least 4 team members at the show – people to meet, people to scout, people to work the booth, and enough talent so everyone gets to grab a quick lunch.