I just finished an article – How a Board Can Support Founder & CEO Success – on Switch (formerly Women 2.0).  It builds on my previous podcast "Get the Most Value From Your Board" with Keith Weaver's Top Executive Strategy Podcast.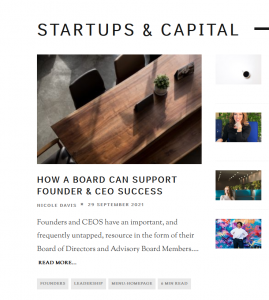 Frequently, founder's and CEO's focus on the "oversight" function of their Board, and miss the opportunity to learn and grow with the support of their Board. As a serial entrepreneur, Corporate Director and CEO Coach, I am not only a CEO of an AI software company, but I also talk with a lot of entrepreneurs and CEOs. It has become clear to me that Boards of Directors and Advisors are an enormous, untapped resource for most entrepreneurs.
Read the rest of the article on Switch (formerly Women 2.0)!
Or watch the video below.
---