I recently had the privilege of talking with Jen Anderson, "Career Coach Jen" on her awesome podcast "Today's Top Leaders in Tech".  "Today's Top Leaders is the place for geeks to grow into tomorrow's tech sector leaders. Join Career Coach Jen Anderson and her geek approved guests as they share tips, strategies and ideas to advance your tech career."
We had such a great conversation that Jen divided it into 2 episodes.
You can listen to the first episode here.  Or you can watch the video of the first part of our conversation below!
Part 1
Here's some of my fave quotes from during the first episode.
Question from Jen: What do you think is the most important skill technology leaders need to have to succeed is today's marketplace? (7:49 Episode #1).
Answer from Nicole (8:00 Episode #1)
"I'm just gonna come out and say that tech is [poorly] managed…Across the board it's not well managed as an industry."
Hear Nicole's story about tech companies in college (8:20 Episode #1).
"I really don't believe that there has been nearly the emphasis on leadership and good management…and career development." (9:10 Episode 1).
"There isn't the investment in better leadership that there should be [in tech]…Over time that will hurt and is hurting tech." (9:46 Episode 1).
"There's a real underappreciation of the power and importance of our technologists … when you look at who climbs the ranks, it's often not engineers, computer scientists, and scientists. It's the talkers."
"The heart of a technology company is that innovation engine, and that innovation engine [is comprised of] the people who are doing the creative work … I don't believe that it's sufficiently valued today."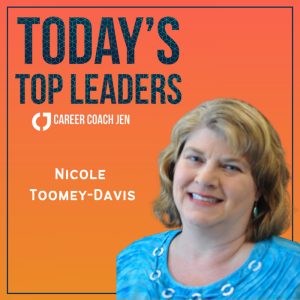 "The job of a product management team is to be that interface between a strong technical team and the management team." (12:18 Episode 1).
"Many of our most creative technologists are more introverted" (14:10 Episode 1).
"The ability to focus on complex problems for long periods of time is key"
"Technology is essentially the same as conventional art. It's just a different medium. The process is very similar."
"It's tech! No, it's creation"
"Better leadership, better management, and better process produce better solutions" (20:20 ish Episode 1).
You can listen to the second episode here.  Or again, watch the video of our chat below.
Part 2
———————-