I am a believer in authenticity in relationships, but an entrepreneur is in a tough position.  You hold the lives and livelihood of all your team members in your hands.  AND you hold the fate of your investors' cash in your hands as well!  NONE of them wants to know that you are uncertain or don't know what to do, especially in the face of a genuine crisis that is going to flush a lot of startups down the drain!
So, who do you talk to in a business crisis?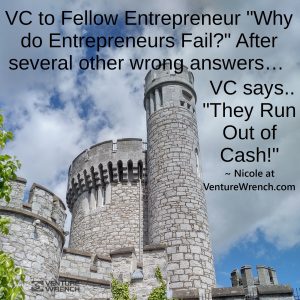 Experienced entrepreneurs will tell you that you need to talk to a business coach for entrepreneurs.  Athletes, actors and musicians have coaches, the truth is that as an entrepreneur, you need an entrepreneur coach.  Your significant other is tired of you and your startup. You are rightly afraid if you talk to your executive team about the worst case options, they'll start looking for a new job! And, if you talk to your investors about worst case options, everything you say "can and will" be used against you. So what do you do? How can you really evaluate ALL of the options available to you, and how do you get some new ideas about options you hadn't considered?
As I shared in a recent post angel and venture capital are likely to get a lot harder to get as investors are working to "fix or kill" their troubled startups. Let's face it, you don't want to be in that "kill" pile.  But understand, that is the view that investors are taking right now, which startups need to be starved quickly because there just isn't a path to sustainability without large infusions of capital.  Remember the math that investors have and then figure out how to put your company in the "win" pile.
Have you worked through the scenarios that whatever capital you have on hand now may be the last capital you get? That VCs are likely not to invest in startups for the near and medium term?  What will you do if the cash you have on hand right now has to last you 12 months because there isn't any more startup funding available? 24 months or even longer? (I've had VCs say point blank they think this will last 2-3 years!)
If you absolutely need to raise capital, do you know how to find investors?  Do you have an angel investors list?  A list of Perfect VC investors?  How will you find investors if they are not investing money?
Hopefully you've acknowledged that your company is in the middle of an economic crisis!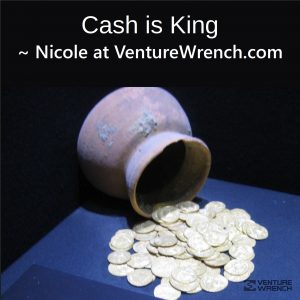 Only people who've really led a startup during an economic crisis have the experience to help you weigh the options. But here are some options for you to consider that an entrepreneur coach can help you with:
Some variation of shutting down (hibernation, bankruptcy…)
Some variation of "skinnying down" (layoffs, pay cuts…)
If you have most of a round raised, close now before terms start to get really bad (and they are going to get bad!)
Get to market right now and start selling, selling, selling (and closing)!
If you have some customers "on the hook", get them closed with whatever discounts, terms or deals you can come up with. Clearly right now, Cash is King!
———————-
Our Free VentureWrench Crisis Capital Guide
5 Changes In Startup Funding
when Stock Markets Plunge!
With key insights to help you understand how raising startup capital
is changing while the stock market gyrates
to help you be more successful in raising capital from investors
———————-