Early in 2019, word came that Sweethearts conversation hearts, the Valentine's day classic, would not be available for this year's Valentine's day giving.  Although there are smaller producers of similar products, by some estimates the manufacturer, the New England Confectionery Company, also the makers of iconic NECCO wafers, have made more than 250 billion candy hearts since 1902. Clearly the biggest player in valentine's day heart heart-shaped candy.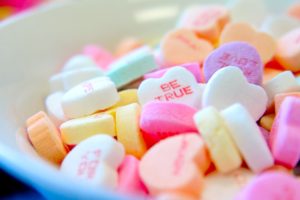 This is a company which owned an entire holiday and still couldn't hold it together! So what happened?  Unfortunately, but perhaps not surprisingly, the Private Equity (PE) industry plays a prominent role in the demise of this firm and its favorite candies, but overbuilding of real estate, changing markets and poor management choices also contributed.
A brief history yields some lessons. NECCO, which claimed to be the nation's oldest continuously operating candy company, was suffering from a decline in the "sugary treat" business and changing tastes in candy, and was struggling financially in 2007.  A few years before, NECCO had constructed a new, 830,000-square-foot production facility in Revere, Massachusetts reportedly costing $130 million.  In 2007, a PE firm called American Capital (ACAS) bought the business for for $57 million.  The business apparently racked up more than $150 million in losses over the next 10 years. Costs were cut, including in sanitation, leading the facility to be overrun by "hordes of rats".  The bankruptcy attorney assigned to the case later filed a pending, lawsuit claiming that ACAS "…extracted money from NECCO and piled on debt" as reported by Bloomberg.
In 2017, another PE firm, Ares Capital, acquired ACAS, and it portfolio, including NECCO.  As often happens, the expensive production facility was sold to a different investment firm which then billed NECCO a reported $2.5 million in rent annually.  Unsurprisingly, the company declared Chapter 11 bankruptcy in April of 2018.
The next month, yet another PE firm, Round Hill Investments, LLC, owned by billionaire investor Dean Metropoulos who has a history of reviving other fading brands like Hostess Twinkies, won the bankruptcy auction bidding war for NECCO with a bid of $17.3 million.  Only months later, in July, Round Hill announced it was selling NECCO assets and also shutting down the Revere plant after an FDA report found extensive rodent activity at the facility. Stunned employees thought that the plant would remain operating at least until the November lease expiration on the large Revere production facility.
One of the competing bids in the May bankruptcy auction was from the Spangler Candy Company of Ohio, best known for their Dum Dum Lollipops. Sweethearts conversation hearts and NECCO Wafers were among the brands sold to Spangler in July 2018, which announced plans for NECCO Wafers to return to stores in 2019 and Sweethearts to follow in 2020, leaving sweethearts without their Sweethearts for another year!
Photo by Obi Onyeador on Unsplash